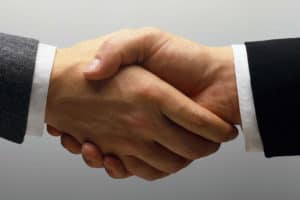 It only takes a moment…a glance…a few words.  You've just made a first impression.  It happens in both personal life and business.  It happens when you meet someone for the first time, or when you contact them by phone.  Psychology confirms that first impressions can be nearly impossible to change or undo, and that's what makes them so important.  Phone greetings can make just as strong an impression as meeting face to face.  They "set the tone" for your customer's experience when they contact you.
What kind of impression do your customers and prospects get when they contact you?  When you make the right first impression, your calls can be more successful.
Phone Greetings answer your calls
Who answers your customers' telephone calls?  A majority of businesses rely on an "automated answering system."  These systems can eliminate the expense of a dedicated operator or receptionist and they can efficiently answer and route your telephone calls during the business day.  After hours, your customers can still be greeted and routed to the right department or extension.
Your customers' impression is often set by your phone greetings and auto attendant
Not sure if making the wrong impression on the phone matters?
Entrepreneur Magazine research found that 74% of people were more likely to look for a competitor after a negative telephone call.
Recorded greetings give you the chance to greet callers professionally.  Once recorded, they never take breaks, never get tired, and never sound like they're having a "bad day."
The tone and the quality are guaranteed to be the same on every call.
The main types of phone greetings
The phone greeting that we're all most familiar with is the "Main Greeting."  This is the first message that your callers hear.  Some examples are
Thank you for calling The Informer.
Welcome to The Informer. Find out about marketing messages on hold at InformerMessages.com
You have reached The Informer. If you know your party's extension you may dial it at any time.
Hello, and thank you for calling The Informer. Please hold on, and our next available marketing consultant will be with you momentarily.
Here's a sample
After a main greeting, all calls can be asked to hold for the "next available representative," or given options that they can choose from with an automated attendant.
Automated Attendant Menu
After a Main Greeting, most automated attendants give your callers options that they can choose from by using their telephone dial pad.
Para Espagnol, oprima el 8
If you're calling about cable television, press 1
For Internet service press 2
For all other questions, press 3 or remain on the line
If you know your party's extension you may dial it at any time.
For Sales press 1
For Service press 2
For Accounting press 3
Or you may hold for operator assistance
What's a good auto attendant greeting sound like?  Click here.
Delay Messages
We've all been stuck waiting for our call to be answered, and heard the dreaded "delay message"
All of our agents are currently busy. In order to maintain your priority, please do not hang up
Your call is very important to us. Please hold for the next available representative
We are currently experiencing a higher than normal call volume. Please hold for the next available representative.
No one likes to hear any of these messages.  They tell your caller that they're going to be stuck waiting for a long time.  None of them really reassure your caller.  They're well know for typical "bad telephone experiences."
There are much more effective options for callers waiting for their call to be answered.  Custom messages can deliver your message to them, and
replace boring "music on hold"
provide helpful advice
reinforce the value that you offer
introduce new products or services
ensure that you sound more professional
Click here to find out about custom messages on hold
Phone messages for your voice mail
What if your caller wants to leave you a message?  A well recorded voice mail greeting lets your caller know that they've reached the right destination.
You have reached John Smith. Please leave a message and he'll return your call as soon as possible.
You have reached the Service Department. Please leave a message and your call will be returned within 30 minutes during our regular business hours.
Are your phone messages making the right impression?
Good phone messages can mean the difference between a positive and negative experience.  Are your recorded messages accomplishing your goals, or annoying your customers.  Try calling yourself to experience, first hand, how you customers get their impression of your business.  If you'd like to sound more professional, call us for a full evaluation of this important part of your customer's experience, and your success.  Call 800-862-8896 today, before your next customer calls.