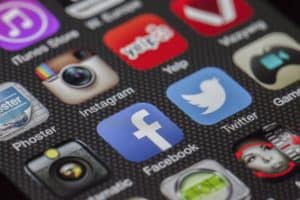 I don't need to tell you how hot Social Media Marketing in Connecticut is.  There's nothing bigger, and there's nothing that's growing faster.  We all know that Facebook, Pinterest, Snapchat and YouTube are capturing everyone's attention, so ambitious businesses focus more of their energy (and marketing) budget on it every day.  Posting on these sites demands new ideas and new messages.  Developing all that content is time consuming and costly.
Social Media marketing can get you noticed
Facebook has over 1.8 billion users worldwide.  Snapchat reaches 173 million users every day.  So businesses are dedicating more and more time to social sites.  Is there a way to get more from all this investment?  The value of content doesn't come from creating it.  It comes from how many people…the right people…you reach with it.
What does that mean?  Facebook may have 1.8 billion users.  But if you're selling Real Estate in Rowayton, you're a Dentist in Danbury, or you're an HVAC company in Hartford, you know that your potential customers are local.  One research study showed that, on average, most dental patients travel just 5-10 miles to their dentist.  That means that the investment you make in developing a social campaign only reaches the smallest fraction of a website's total followers.  Is all that effort really worth it?

How to make social media content work harder
The answer is recycling your ideas and using them again in a new way.  The better your ideas are, the more you should reuse them.  But how?
You can make sure your ideas reach your best prospects
You can do it by delivering this valuable information directly to your best customers and prospects.  Here are three ways to do it:
Email Blasts: collect customers' email addresses and add them to your email list.  It's easiest if you use a service like Constant Contact or MailChimp.  Short, informative messages are the best way to make sure your audience gets your message.
Try Twitter: it's easier than it looks.  Don't be distracted by all those #hashtags.  Try it out.  Find a #hashtag for your town (Stamford, Danbury, Bridgeport), your brand, or how your customers use you.
Reach your customers when they call you: that's when they're most interested in you, need your help most, and open to suggestion.  You can do it with Informer Messages on hold (www.informermessages.com): they're ideas, suggestions, and advertising that reach your customers and prospects in the time they spend on "hold."  Hold time can be boring and frustrating: why not make it interesting and helpful by using the same ideas as you use in your social media on hold?
Better results from your social media ideas
Your social media content can get you more results, increase ROI (Return on Investment) and reach more of your best prospects simply by using it in more places.  Questions about which of these three suggestions to use?  Call us now and tell us about your business, and we'll help you make the right choice.  In Connecticut call (203) 655-3920.  Nationwide Call (800) 862-8896 and ask for a Discovery Session, or click here to email us.