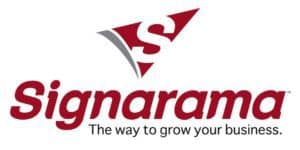 Stamford, CT based Sign A Rama was launching an ambitious marketing campaign and wanted to add Sign A Rama Messages on hold to their list of marketing tools.  Their goal was to gain more corporate clients, and needed a marketing tool that would help them educate their clients about more of the signs that could help build the professional appearance that their customers wanted.  Peter, owner of Sign A Rama Stamford looked at the pre-recocorded ones from his franchiser. He wanted marketing messages focused on his local market, local needs and local opportunities.  He had tried networking, print and broadcast advertising, a custom "truck wrap," joining the Stamford Chamber of Commerce, and direct selling…lots of direct selling.  But he wanted a marketing tool that would ensure that more Stamford businesses knew more about the extensive line of signs that he provides.
Sign a Rama Messages on hold from The Informer
Sign A Rama "where the world goes for signs," went to Informer Messages on hold for their newest marketing tool.  Peter worked with the Informer's Messages on hold pros, who developed a custom script, strategically targeting the specific types of signs that the local businesses in Stamford needed.

Sign A Rama messages on hold focused on high profit signs
A series of short messages each focused on one high profit sign.  Most of Sign A Rama's customers asked for the "same old" signs.  The strategy developed for Sign A Rama included introducing new styles of signs, new sign technology, and higher quality/higher profit products.  The result: new demand for the products that Sign A Rama wanted to sell. The messages also showed how Sign A Rama of Stamford was unique by promoting specialty graphics (like car wraps, window graphics and outdoor decals that non-specialized competitors could not compete with)  "They sound great, and callers are asking about them."  Written correctly messages on hold can start to show results the day they're installed, and results continue to improve as more customers hear them with repeated calls.
Sign a Rama messages on hold worked.   Informer Messages can work for you, too.
How? Focus on high profit products targeted at local growth industries, and show how you're different from your local competition: Informer Messages deliver the right message at the right time to the right people.
How can this highly targeted marketing tool work for you?  Find out more: In Stamford call (203) 655-3920.  Nationwide call (800) 862-8896 today!

The Informer serves businesses in Stamford CT, Norwalk CT, Greenwich CT, Brideport CT, Hartford CT, Fairfield, CT, Waterbury CT, Danbury CT, New Haven CT, and throughout Connecticut.