Have you heard of Call Only Ads?  In February, Google officially announced a specially targeted AdWords Campaign designed to make your phone ring.  They're called "Call Only" Ads.  Call Only Ads look and feel just like Pay Per Click Ads with one special twist:  They're specifically designed to get customers to call you and not click on a link.
Why?  According to Wordstream.com, Google is removing the "leakiest part of the conversion funnel" for their advertisers.  Their statistics show that you'll lose "19 out of 20" of the potential customers who click your PPC ad to view your landing page.  Only 3% will actually take the next step and contact you.
Call Only Ads improve Mobile Marketing Results
Call Only Ads avoid the "extra step," encouraging the prospect to call you immediately, with just one click.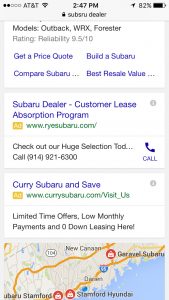 Looking at the AdWords advertising above, which auto dealership are you more likely to contact: the one with the URL or the one you can call with just a click?  It's a no-brainer!
Call Only Ads Mean more calls
Using AdWords you'll show up on Google Searches more prominently.  And when you use the Call Only feature, you'll get more phone calls.
Call Only Ads also mean…
Call Only Ads also mean that you'll be putting more callers on hold.  That's the "traditional" leaky part of initial customer contact.  AT&T Research shows that 69% of your telephone callers will be placed on hold.
Picture your "Call Only Ads" prospect being placed on hold in Manhattan.  In silence.  Or listening to canned music.  How long will it be until they get impatient, or try the next listing in their search?
You can "hold on" to more of your callers from Call Only Ads by giving these callers (and all your callers) helpful information on hold.  New Yorkers want results, fast.  Interesting marketing messages on hold can cut down on "abandoned" calls by 66% vs. having nothing on hold.  They'll hold on longer and be more interested in how you can help them.
Investing in Call Only Ads?  Make all those new callers more profitable by giving them Informer Messages on hold specifically written to help you sound more professional and convert more sales.  Call for a free 15-minute strategy session, and mention keyword "Call Only Ads."  In New York call 212-355-6980.  Nationwide call 800-862-8896.