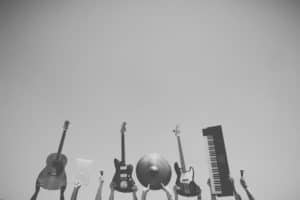 It's funny to think that the best hold music…really isn't hold music. But that's another story.
It all started way back in the 1980s.  That was when AT&T introduced the Merlin Phone System, and for the first time, even small businesses could play music on hold. For years only "Reservations" centers for large airlines, hotels, etc. played music on hold. When call volumes were high, callers were often asked to wait for "the next available agent."  Calls were answered "in the order in which they were received" while callers waited in the "call queue."  That's when callers heard music on hold.
Best music on hold becomes an issue
Fast forward to more advanced phone systems: businesses everywhere could play music on hold.  Most businesses had two choices: pay "Muzak" for expensive licensed music, or take their chances by playing the (unlicensed) radio on hold.  (most chose this risky option, and got away with it).
Playing the radio had one advantage: it was free.  The downside was that radios often become staticy, especially in a room loaded with telephone and other electronics.  But radio is filled with commercials and "shock jocks" so you never really know what your customers and prospects are listening to.  Maybe even an ad for your competition!
But back to choosing the best hold music
#holdhappens.  We all know it.  Research proves it.  Our own experience calling businesses becomes more frustrating every day.  Hold time is a waste of time.
Today, Muzak is actually gone. (I guess no one really liked "Elevator" or "Dentist" music!)  So how can you choose the best hold music? 
The answer is obvious: if you don't want your caller to sit in silence, wondering if they've been cut off, you play something on hold. Radio is no better a choice now than it was 30 years ago.  So what do you give your callers to listen to while waiting?
If you have a VoIP system like Cisco, your callers probably hear infamous music that every has heard…and mocks.  Cloud systems like 8×8, Ring Central, or Grasshopper give you standard music.  But that can be fixed.
When's the last time you heard your favorite song while you were sitting on hold?  Something you really enjoyed listening to? Probably never.  So what's your best choice?
Even better than the best hold music
Why not give your callers something that they want, and that you want them to have? Customers (and prospects) call you when they want or need something.  When they want help.  Why not start giving it to them? Tell them about how you help your customers, and solve their problems.  Tell them about your newest offerings, and how that's even better.  Tell them stories about success stories, and how they can be one, too. Tell them with Informer Messages on hold.
Informer Messages replace even the best hold music with information: short messages, each with a purpose to educate your callers or start solving their problems.  Give them "tech tips" or "answers to FAQ."  Give them breaking news about advances in your industry that could help them.  Tell them about how you're uniquely positioned to give them what they need.
Informer Messages on hold are custom written with your company, your goals, and your customers in mind.  We write them for you after learning all about you.  We do this by asking "Discovery Questions" that give us insight into your day to day business and long term goals.

When the best hold music isn't good enough…
Click here for more information, or Call The Informer to find out how others in your industry use this marketing tool, and how you can benefit, too. Call for your Discovery Session today. In New York call 212-355-6980.  In Connecticut call 203-655-3920. Nationwide call 800-862-8896.  And give your callers something better.