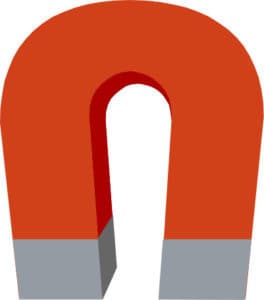 Attract Customers and then give them the information they need to make the best decision: buying from you.  That's what Marketing is supposed to do for you.
But successful marketing doesn't just tell your customer about the products and services you sell.  Why? Because customers aren't interested in buying anything.  They're interested in solving problems.  They're interested in accomplishing something.  Take my friend for example: he just bought a drill.  He didn't really want a drill.  He just needed a hole.
Attract Customers with what you help them do
Most advertising is filled with empty noise and clichés. It talks about award-winning products or services, unsubstantiated claims, and they never try to get your customer involved.  I just read a brochure: most sentences starts with the name of the company (or "we").  It talks about the company's technology, their quality, their service.  Their products are described in detail highlighting every new feature.  Sound familiar?  What's your brochure (or your website, or your email blast, or your sell sheet) talk about?
You can attract customers more successfully
Change your approach and you'll change your results: Are you able to put yourself in your customer's shoes?  Can you feel what they feel?  Need what they need?  Want what they want?  That's the first step.
The best Selling isn't selling.  It's helping.
Now put it into your advertising: don't tell your customer what you have to offer.  Tell them about what they want to accomplish or solve.  Tell them about the benefits you offer.  Get them involved and feeling what you're talking about.  If you do this well enough they'll ask you to help them.

Does your advertising help you attract customers?
That's an easy question to answer: you'll see the answer immediately if your customers ask to know more about how you can solve their problems, and make their dreams come true.  Because selling shouldn't be selling.  At its best it's helping.
Do your advertisements accomplish this?  Are customers responding to them?  Are people asking about the ideas?  If not, take another look at them.  They're probably filled with too many claims about your company and your products, and ignore the customer.
When you're ready for marketing that will attract customers, you're ready to change.
For a free 15-minute Discovery Session and lets see if your advertising is written to sell or to help. Call today: 800-862-8896.