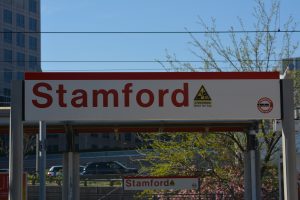 Think about advertising.  Your advertising.  There was a time that most advertising in Stamford, CT, was in the Yellow Pages, in the Stamford Advocate, and on billboards.
The idea was to be seen by as many people as possible, and hope that you reach someone…anyone who was interested in buying from you.
Advertising in Stamford : Today's approach
Fast Forward.  It's the 21st Century.  Advertising is Stamford is on line: Google.  Facebook.  So all your marketing problems are solved.  Right?  Maybe not.
You have a great website. Your email blasts are filled with interesting articles that are all "clickable."  You use SEO, SEM, and lots of other three-letter words to make sure you get found.
Now try searching for your product (or service) on Google.  I'll wait…
in just .54 seconds you have found 1,950,000 results for what you do.  So today's most advanced advertising in Stamford gives your prospective customer almost 2 million options.  But wait a minute: I thought that this was more efficient?
Every Stamford business has got to know that the information age means that consumers have almost unlimited choices from your competitors nationwide, and around the world.  So how do you survive all this added competition?
The secret to advertising in Stamford
The answer is the same today as it was 200 years ago: give consumers the information that will help them understand what you do, how you do it, and what that means for them.  Educate consumers about what's important when they're shopping for what you do, and how "they'd be crazy to buy from anyone else."  Talk about what's most important to them, and focus on their "hot buttons," the most important questions on their minds.
How can you do all this?
A website that helps, and not just sells.
Emails (and a "drip" campaign) that educates your consumer step by step
And use every opportunity you get to give them the information that they'll need to feel comfortable buying from you.
A new opportunity for advertising in Stamford
Looking for a new opportunity to do all this?  It's right there in front of you.  When customers call, most of them are placed on "hold" for at least a short time.  Why not take this frustrating, wasted time, and put it to use?  Deliver the right information to the right people at the right time.  That's the guaranteed way to get your message across to them.
Informer Messages on hold are guaranteed to do the job.  With three decades of experience, working in all 50 states with thousands of clients, we practically invented messages on hold, and then perfected it, with the most effective messages in a way that is easy to understand and always retained.
Learn more about the most effective advertising in Stamford.
You can learn more about Informer Messages on hold, how they've worked for others in your industry and how they can work for you, with our Free Guide "How To Sell More On Every Call," or in a Free 15-minute Discovery Session, by calling 203-655-3920 today.