Add-on sales are defined as simply selling additional products or services to your   customer.  Any salesperson knows that making the initial sale is the toughest part.  But after that the buyer's initial resistance is overcome and their defenses are lowered.  That's when profits can be earned.
Add-on Sales in any situation
Retailers take advantage of add-on sales in many forms: a clothing store displays various items that go well together in the same area, instead of in different departments.  Buying a men's suit?  Don't be surprised if you find coordinating shirts, belts, and other accessories near by. After all, you'll look better in a well planned ensemble.
Catalog merchants are masters of add on sales: high demand hiking boots are displayed in a catalog or online with socks, hiking shorts, and shirts.
Amazon's approach is so obvious yet so tempting that they're the masters: directly below the item you're interested in is a list of suggestions headed "Customers Who Bought This Item Also Bought."  But you don't need Amazon's advanced analysis to know your own customers' "most likely" add-on purchases.
Add-On Sales in non retail businesses
What if you sell insurance, or investments, or HVAC products and services?  How do you "suggest" additional ways you can help your customer?  Your monthly email blast is usually deleted with the daily "spam." Monthly invoices usually come with a sales brochure for some additional product or service, but accounting departments aren't interested.  Unlike retail stores where customers notice products on display, you've got a bigger challenge: making a suggestion without looking "pushy" or sounding like a "salesman."
Doctors, dentists, and other professionals have an even tougher hurdle.  Their professional stature and reputation rule out "selling."  Though they offer (profitable) advances such as Botox, Zoom Whitening, and "Executive Physicals," they can't do much more than display posters and brochures in the waiting room.  Can they?
All of these "add-on" products or services can really help, if clients know about them.
So how can you take advantage of add-on sales?
There are ways to help your client or patient more completely without "selling."  It often starts with giving your client information that they want, and that you want them to have, and doing it when they're interested in your help.  Stories of your challenges or successes with other clients can work.  Taking the time to have in-depth conversations helps raise lots of questions.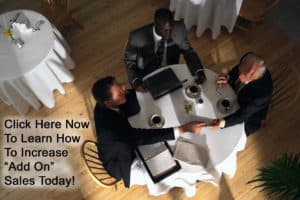 Add-on sales can increase value and total satisfaction without have to be a "salesman."  Start the right conversations with the right people at the right time, and sales will follow.