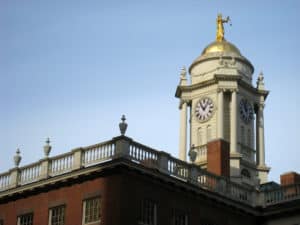 On hold messages in Hartford help capital area businesses engage with their customers and best prospects.  How?  By making all their marketing more effective.
Marketing with on hold messages in Hartford
Marketing's job is to attract the attention of your desired target market, and then give them the information that makes it easier for them to understand that they should buy from you.  It's evident that on hold messages reach your customers and the prospects who want to know more about your business: they've called you.  But in today's busy Hartford office, it's a fact that telephone callers are often asked to wait on hold.  AT&T research proves it: up to 69% of business telephone calls are placed on hold.  Though no one likes to wait on hold, the average caller listening to interesting messages will hold on for 33% longer before hanging up.
Businesses that use on hold messages in Hartford hold on to more callers
Well written marketing messages provide telephone callers with information that they want, and that you want them to have.  Custom written messages (as opposed to generic, or "customized" messages) directly address your callers problems, challenges, and desires.  These "hot buttons" are the issues that your caller is most interested in, and wants help with.
What are the first questions that your prospects ask when they call you?  What links of your website get the most traffic?  These are some of the basic questions to ask when developing the strategy for the most effective messages on hold.  We use this information to write messages that your callers will appreciate.
On hold messages in Hartford help you sound more professional
What do your callers hear when they have to wait on hold?  Silence?  The Radio?  Or the "canned music" that came as a standard feature when you bought your phones?  You only get one chance to make a great first impression: you can make the right one when you give callers helpful, authoritative messages in the time they now spend on hold.
Looking for new ways to improve your marketing results?  Call for a free Marketing Strategy Session today.  In Hartford call (203) 655-3920 or toll Free 800-862-8896.