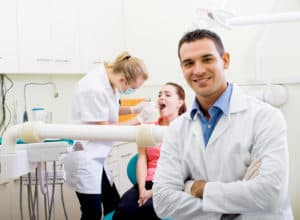 Advertising Dental Services to your community is an important step in building a successful Dental Practice.  Your dental practice can help your patients in so many more ways than just 20 years ago, and in so many ways that even your long time patients don't know about.  But advertising dental service effectively means more than just giving patients a long list of your services.
Advertising Dental Services means showing the benefits
Why do your patients come to you?  Simply listing your services isn't the answer.  It's because they want or need your help.  It could be that they know the benefits of a regular exam and cleaning (and the potential problems of skipping these services).  It can often be to alleviate pain, or improve their appearance with whitening, orthodontia, or tooth replacement.
When you're advertising dental services…
…simply listing all the services you offer isn't enough.  Your patients want to know how you can
help them avoid pain and problems
help them look better
help them improve their health
You probably already advertise…in the local newspaper, local cable TV, and online.  Like most businesses, your website, social media, and Adwords are getting more and more of your attention and advertising expenditure, with the goal of getting new patients to call you to book an initial consult.
Just like brushing, educating your patients about what you do and how you can help them best is a long term project.  Constantly reinforcing your reputation, your skills and your specialties helps your patients know exactly who to trust.
The more effective idea advertising dental services
You've tried lots of advertising and marketing tools.  Which one works best?  (It can be hard to know!)  It's usually the one the delivers the right message to the right people at the right time.  Here's one that does just that: Informer Dental Messages on hold.  Why?
When you hear a radio ad at the beach you're not really interested in which dentist can whiten your teeth. The same is true when you're watching cable TV, or reading the local newspaper.

Focused on you
When your patients call you to book an appointment or with a problem, they're 100% focused on their teeth and on you.  That's when they want to know how you can help them.  Informer Messages on hold reach patients when they call your office and have to wait on "hold."  They're custom written marketing messages that highlight your practice and how you can help them best.  Even the ADA has written about the value of messages on hold.  What do your callers listen to while waiting on hold?  Nothing?  A staticy radio?  Generic messages that try to convince them that "your call is important to us"?
Give them information that they want, and that you want them to have.  With the most effective tool for advertising dental services: The Informer Dental Messages on hold.  For a Free 15-minute marketing consult call 800-862-8896.

Informer Dental Marketing Messages help grow practices in New York City, New York,: 212-355-6980, Greenwich, Stamford, Bridgeport, New Haven, Hartford, Connecticut: 203-655-3920, in Boston, Springfield, MA